REGISTER TODAY! New Jersey Healthcare Market Review | September 28-29, 2023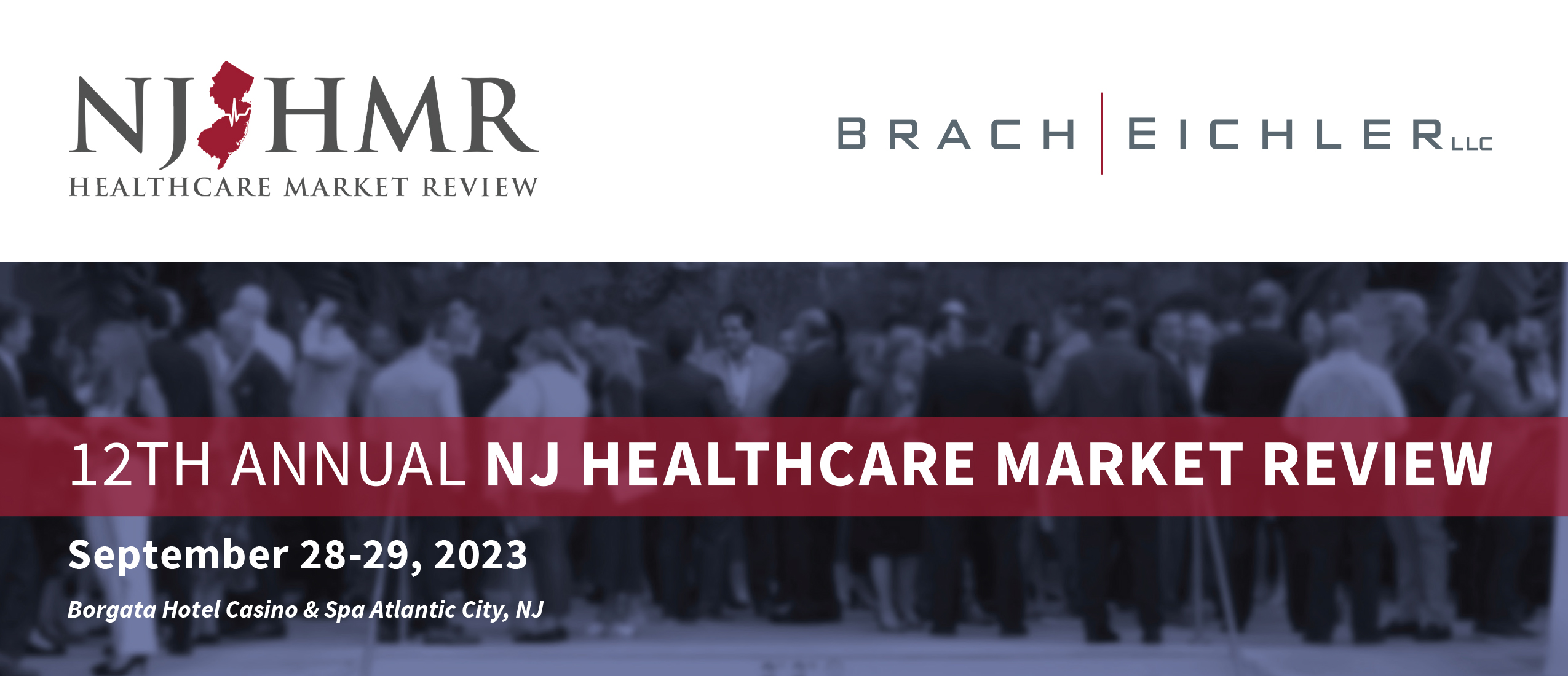 BACK TO INSIGHTS
Events
8/3/2023
NJHMR 2023: Where Healthcare Legal Concepts Empower Innovative Business Growth Strategies.
And support healthcare providers' entrepreneurial ventures!
Physician pay in Value-Based Care: How to make the switch.
Rethinking ambulatory care strategies for hospitals, health systems, operators, and physician owners.
Physician/Hospital Relationships: Good and bad ideas for JV Ambulatory Surgery Centers (ASCs).
Navigating private equity in ASCs: Cash in or sell out?
Is private equity a bonus or a bust? Let's address both sides of the transaction.
Will ASCs continue to be successful ventures? Are there headwinds afoot?
Security breaches are real and costing healthcare practices millions. What to do?
It's tough being a physician today. How to avoid and deal with physician burnout.
Can a medical spa enhance your practice and your bottom line?
When a physician leaves your practice, should you also address the physician's real estate investment?
Join the healthcare industry's leading experts and tastemakers as they analyze timely topics and trends in the healthcare and legal space ranging from legislative issues to operating and business developments for greater profitability and growth.
This year's Keynote Speaker will be award-winning journalist and 60 Minutes correspondent, Bill Whitaker. Bill Whitaker's verve and in-depth coverage of major news stories have provided critical understanding for CBS News audiences for almost four decades, both globally and domestically. We look forward to hearing his perspective on healthcare issues confronting both patients and providers.
Please join Brach Eichler for its premier healthcare conference, the 2023 New Jersey Healthcare Market Review, September 28-29, 2023 at the Borgata Hotel Casino & Spa in Atlantic City, NJ.
This event is anticipated to qualify for CME, CPE, CFP, and CLE credit. Invitation and detailed agenda to follow.
*Arrangements for the appearance of Bill Whitaker made through UTA Speakers, New York, NY.
---
About Brach Eichler LLC
Brach Eichler LLC is a full-service law firm based in Roseland, NJ. With over 85 attorneys, the firm is focused on the following practice areas: Healthcare Law; Real Estate; Litigation; Trusts and Estates; Corporate Transactions & Financial Services; Personal Injury; Criminal Defense and Government Investigations; Labor and Employment; Environmental and Land Use; Family Law; Patent, Intellectual Property & Information Technology; Real Estate Tax Appeals; Tax; and Cannabis Law. Brach Eichler attorneys have been recognized by clients and peers alike in The Best Lawyers in America©, Chambers USA, and New Jersey Super Lawyers. For more information, visit www.bracheichler.com.