Members
Counsel
Associates
Paralegals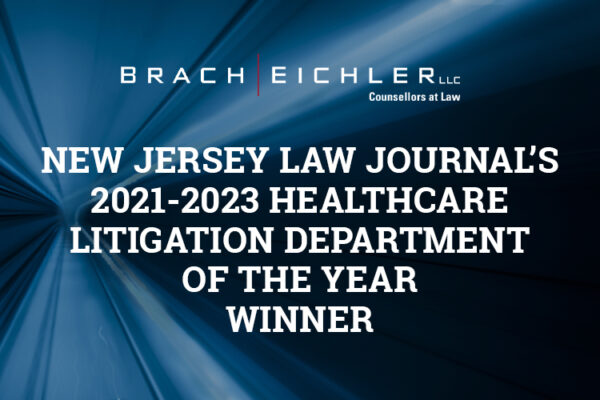 Print as PDF
Our litigation attorneys are serious litigators. At Brach Eichler, we serve as trusted advisors to our clients in matters from initial case assessment to resolution. Understanding risk and damage exposure guides our pre-litigation strategies. We focus on the needs of our clients with proactive thinking and provide counsel on how to avoid or minimize potential liability in their personal, professional, and business activities. Our lawyers seek to resolve legal matters with an efficient and cost-effective approach. But at the same time, we are zealous advocates. Most important, we build long-term relationships with our clients. We learn the business, the industry, and the culture of our clients so we can deliver exceptional and value-driven legal services.
The litigation attorneys at Brach Eichler are active members of the trial bar in the state and federal courts of New Jersey, New York, Pennsylvania, and other jurisdictions. And of note, several members of the litigation practice have been recognized by the New Jersey Supreme Court as Certified Civil Trial Attorneys.
We represent national and international companies, as well as mid-sized companies, in many types of legal matters, ranging from contract and business disputes, construction claims, business torts, employment disputes, copyright infringement, unfair competition, trade secret litigation, shareholder disputes, regulatory matters, supply chain and beyond. We are also recognized leaders to healthcare providers in complex reimbursement and regulatory disputes, claim audits, disciplinary proceedings before state medical boards, restrictive covenant breaches, insurance fraud matters, governmental investigations, and medical practice shareholder actions.
Clients rely upon Brach Eichler's litigation team. We have earned a reputation of excellence with demonstrated ability to litigate complex issues and position our clients for successful outcomes. We engage in detailed research and analysis, involving the client in every stage of the process. When the time comes for trial, we are well-equipped and ready.
Although our savvy and experienced attorneys maintain a wealth of experience litigating cases through trial, we strive to avoid such expense and risk by seeking practical solutions to the conflicts our clients encounter. Brach Eichler is also known for having the business acumen necessary to understand our clients' goals and develop creative solutions to our clients' most challenging problems.
We prosecute and defend a broad range of complex litigation, including:
Actions before the New Jersey State Licensing Boards
ADR/Arbitration/Mediation
Appellate matters
Bankruptcy/Creditors rights
Business/Commercial litigation
Complex healthcare payor audits and reimbursement litigation
Contract/Vendor disputes
Construction litigation
Criminal and civil federal and state healthcare investigations
Domain name disputes
Employment discrimination
Environmental litigation
General litigation
Governmental regulations
Healthcare law and regulatory matters
Insurance fraud
Real estate litigation
Supply chain litigation
Trademark/copyright infringement
Trusts/Estates litigation and Will contests
White collar crime
Our Promise
+
At Brach Eichler, we are committed to a meaningful partnership with our clients. We move forward with a shared vision, one that is carefully crafted and thoughtfully and practically implemented. Together, we achieve success.
Insights
+