Members
Counsel
Associates
Paralegals
Christina Balbo
Jessica Biczak
Kathleen Lamb
Chivian Lewis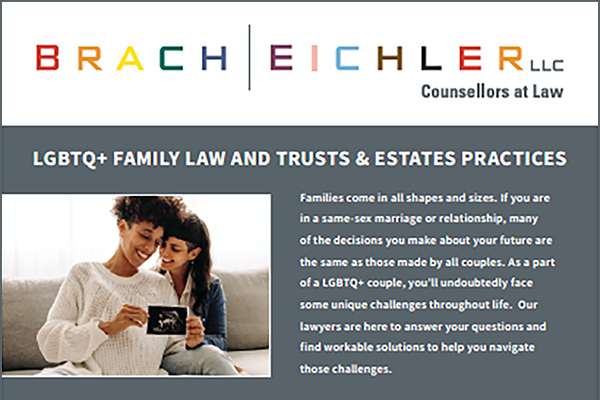 Print as PDF
Brach Eichler's Trusts and Estates Practice provides state-of-the-art estate planning for clients and their families, as well as estate and trust administration. Our clients include individuals, closely held business owners, charities, trustees, executors, and personal representatives.
Our attorneys have deep experience with the most sophisticated estate planning vehicles and routinely deal with complicated issues associated with intergenerational planning. The practice has implemented estate plans involving:
Family limited partnerships and limited liability companies
Grantor-retained annuity trusts
Personal residence trusts
Qualified personal residence trusts
Dynasty trusts and other generation-skipping transfers
Intentionally defective grantor trusts
Irrevocable life insurance trusts (for individual life coverage as well as second-to-die / survivorship coverage)
Split dollar life insurance planning
Charitable remainder and lead trusts
Private charitable foundations
Private annuities
Asset protection trusts
Special needs planning
Retirement planning including planning for qualified plans and IRAs
Financial powers of attorney
Prenuptial agreements
Living wills, health care directives, and combined advanced directives
Additionally, the practice represents business owners with business succession planning, preparation of buy-sell agreements, shareholder's agreements, employment agreements, assistance with pension matters, and general tax planning.
Our attorneys are also actively involved in all aspects of the administration of estates and trusts, including sophisticated postmortem tax planning; gift, estate, and inheritance tax return preparation/audit defense; disclaimer planning; and probate court administration. This includes will challenges, will and trust reformation, contested accountings, and fiduciary litigation. The practice, working in conjunction with our Litigation Practice, provides probate litigation attorneys and guardianship petitions. Through our team of experienced attorneys, paralegals, and support staff we handle:
Planning and preparation of gift, estate, and inheritance tax returns, and fiduciary income tax returns
Probate court accountings
Review and analysis of valuation reports
Working closely with certified public accountants
Coordination with financial planners
All other documents required for administering sophisticated estates
Our Promise
+
At Brach Eichler, we are committed to a dynamic and meaningful partnership with our clients. We move forward with a shared vision, one that is carefully crafted and thoughtfully and practically implemented. Together, we achieve success.
Insights
+