OIG Allows Hospital to Provide Free Nurse Practitioner Services to Physicians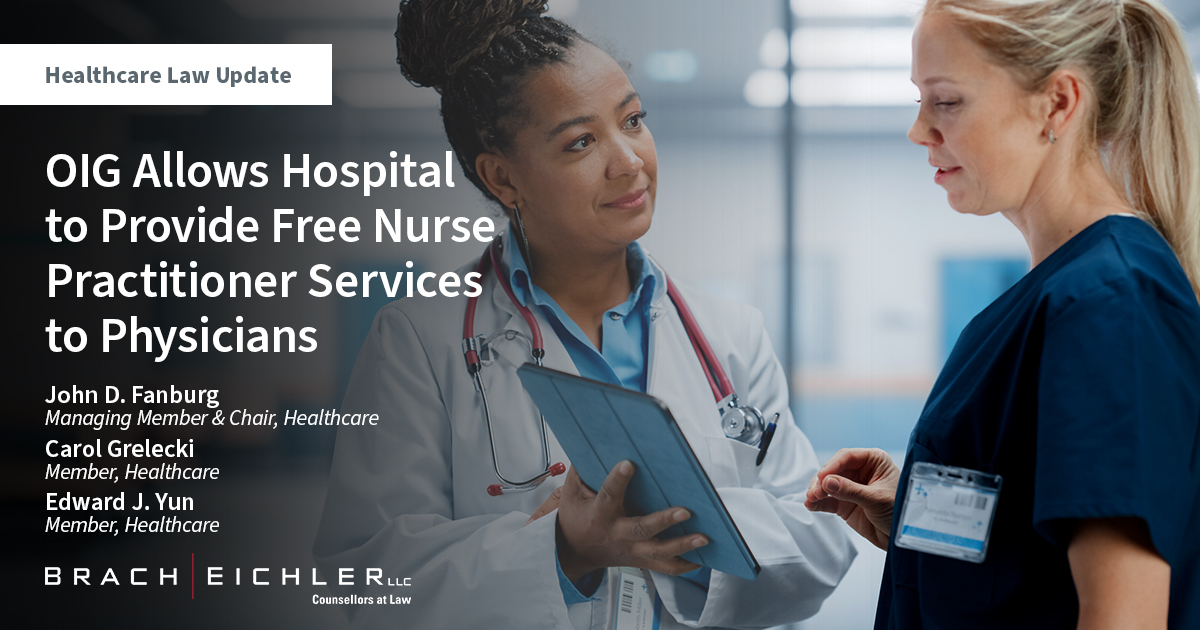 BACK TO INSIGHTS
Articles
January 31, 2023
On December 19, 2022, the U.S. Department of Health and Human Services, Office of Inspector General (OIG) published Advisory Opinion No. 22-20 allowing a hospital to provide access to the services of its employed nurse practitioners (NPs) free of charge to attending physicians (Physicians). Specifically, the OIG considered whether the arrangement violated the federal Anti-Kickback Statute (AKS) because the hospital's provision of NP services free of charge could potentially induce referrals from Physicians.
Under the arrangement, the hospital allowed its NPs to furnish inpatient and observation services for a Physician's patients at two of the hospital's medical units. This included services that the Physician would traditionally furnish, such as initiating care plans, implementing care protocols, making rounds, responding to laboratory or imaging studies, addressing rapid changes in patients' conditions, educating and supporting patients and families, overseeing unit-based quality improvement projects, and discharge planning. All Physicians with privileges at the two medical units were informed of the arrangement and were allowed to participate in the arrangement without regard to the volume or value of a Physician's referrals. In addition, Physicians were largely primary care physicians, only billed for services the Physicians personally furnished and were prohibited from billing for the services furnished by the NPs. Although the hospital paid for all of the services furnished by the NPs, the hospital did not separately bill for the services furnished by the NPs.
In reviewing the arrangement, the OIG determined that the hospital's provision of free or below fair market value goods or services to Physicians in a position to refer has the potential to violate the AKS. This is because Physicians could offload services to NPs that would otherwise require their time and attention and allow Physicians to furnish other services reimbursable by federal healthcare programs. However, the OIG noted several safeguards that mitigate the potential risk of fraud and abuse under the AKS. First, Physicians participating in the arrangement were predominantly primary care physicians, not surgeons or specialists who typically make lucrative referrals. Next, the arrangement was not aimed at any specific physicians with a history or expectation of higher referral volume. In addition, Physicians were not receiving production credit or any additional compensation for the services furnished by NPs. To assure potential quality concerns, all NP services were performed through communication and collaboration with Physicians. Further, Physicians were also required to round daily and maintain ultimate accountability for the patient's care. Finally, the hospital did not bill any payors, including federal healthcare programs, for services furnished by the NPs, though these services may be separately reimbursable.
As a result of these safeguards, the OIG concluded that the arrangement presented a low risk of fraud and abuse and determined that it would not pursue administrative sanctions against the hospital.