NJ Board of Nursing Rescinds Licenses and Others Plead Guilty Following Fraudulent Nursing Diploma Scheme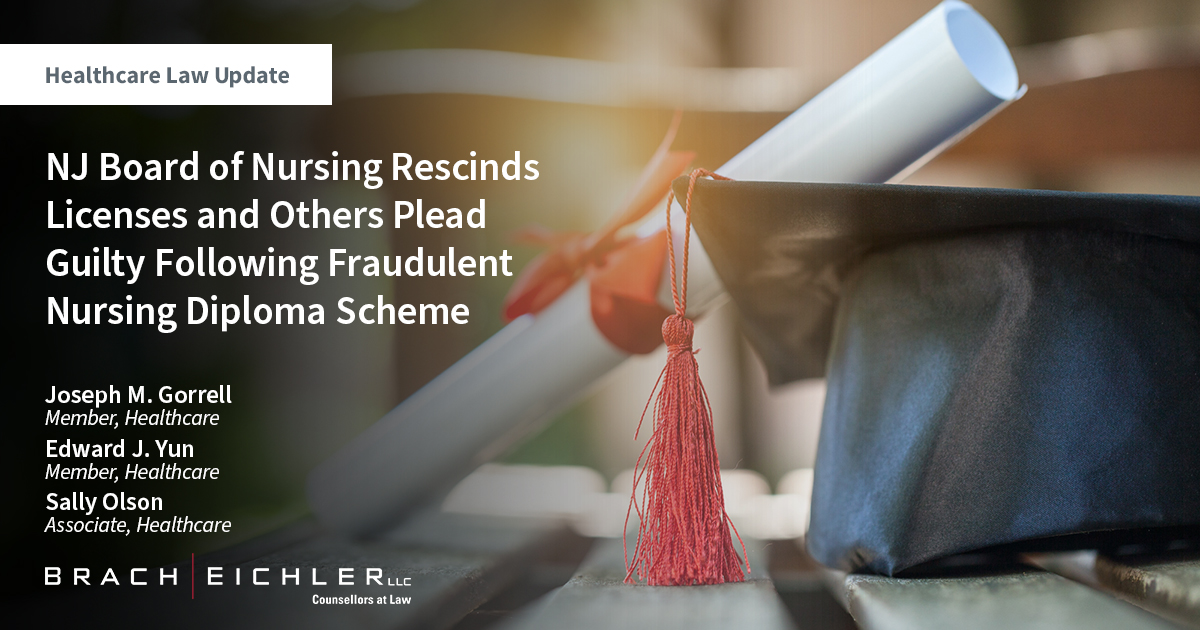 BACK TO INSIGHTS
Articles
6/30/2023
On January 25, 2023, the U.S. Department of Justice, along with other law enforcement agencies, charged 25 individuals in 5 states, including New Jersey and Florida, with an alleged scheme to sell false and fraudulent nursing degree diplomas and transcripts. The enforcement action is known as Operation Nightingale.
On May 15, 2023, the U.S. Attorney's Office for the Southern District of Florida announced that 5 defendants, including individuals from New Jersey and Florida, pleaded guilty. Each of them faces up to 20 years in federal prison. The defendants admitted to soliciting and recruiting people who sought nursing credentials. The defendants also admitted to working with the Palm Beach School of Nursing to issue fake diplomas and false transcripts to individuals who had not yet completed the proper coursework. One of the defendants acknowledged that she processed applications for individuals who were issued the fake diplomas and transcripts in return for a $15,000 payment to the school.
Following the U.S. Department of Justice's investigation, on March 9, 2023, the New Jersey Attorney General Matthew Platkin announced that 20 nurses had their licenses rescinded. Additionally, 26 other individuals who had received temporary licenses issued by the New Jersey Division of Consumer Affairs, Board of Nursing, under the Temporary Emergency Reciprocity Licensure Program had their temporary licenses voided and their pending applications for full licensure denied.