Brach Eichler Earns Top Rankings in Chambers USA for 2023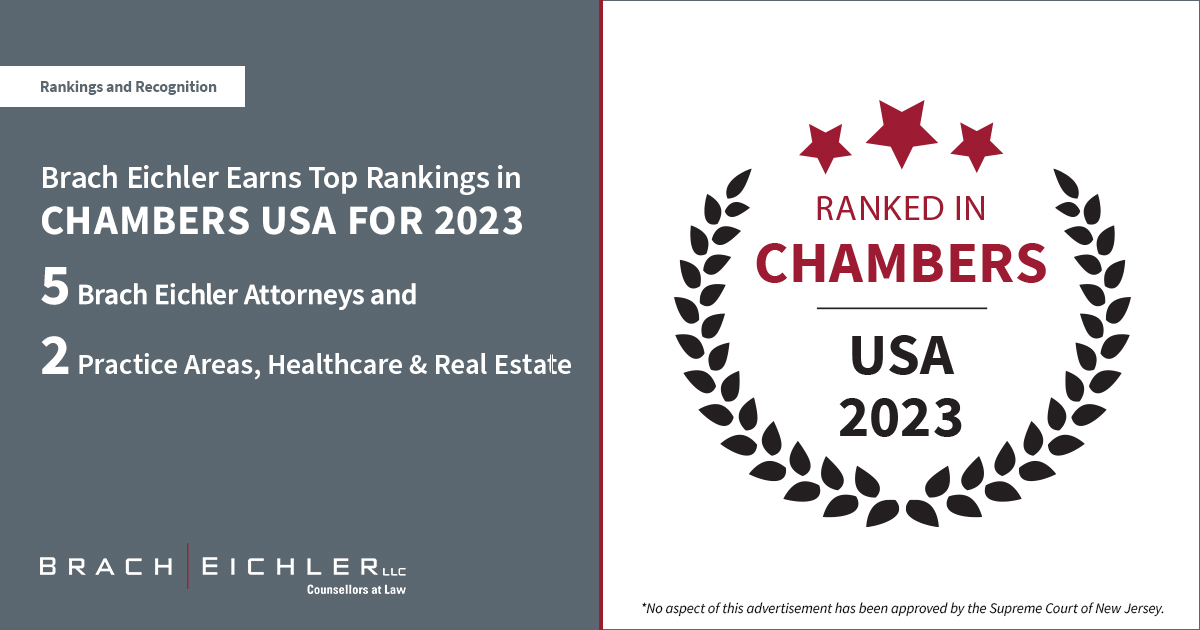 BACK TO INSIGHTS
Firm Announcements & Wins
June 7, 2023
Brach Eichler LLC, a full-service law firm based in Roseland, NJ, is pleased to announce that the firm's healthcare and real estate practices have again been recognized by Chambers USA (2023) as among New Jersey's top law practices. In addition to the firm's overall recognition, five of the firm's attorneys have been highly ranked this year as well. Chambers and Partners identifies and ranks the most outstanding law firms and lawyers in over 180 jurisdictions throughout the world.
"We are always greatly appreciative of the positive feedback our clients provide to the Chambers USA Guide, which we know is a key contributing factor to our achieving these stellar rankings in firm-record numbers," said John D. Fanburg, Managing Member and Healthcare Law Practice Chair. "Chambers USA is known for its thorough selection process and rigorous standards. We are pleased that the firm and several of our attorneys have been recognized as leaders in real estate and healthcare law further validating our longstanding tradition of delivering excellent results in New Jersey."
Ranked by Chambers USA every year for fourteen years straight, Brach Eichler's Healthcare Law Practice was ranked as top tier (Band 1) among healthcare law practices in New Jersey for 2023. In its review, Chambers cites sources describing Brach Eichler as "a talented team of practitioners handling a broad scope of healthcare matters, such as corporate governance and compliance, contract negotiation and regulatory advice. The team has particular strength in representing physicians and physician groups in matters such as certification, licensure and investigations. It also offers notable transactional expertise, including in M&A, joint ventures and private equity buyouts."
Recognized by Chambers USA every year since 2010, Brach Eichler's Real Estate Practice was named in 2023 among Band 2 firms in New Jersey by Chambers USA. Chambers states the Brach Eichler Real Estate team, "possesses a significant profile in the market, with considerable capacity in financing and transactional work, including acquisitions and sales of apartment buildings. Proficient at handling leasing in relation to commercial and retail properties. Further expertise in relation to residential developments, including substantial condominium, multifamily and affordable housing projects. Also recommended for matters involving Section 1031 tax-deferred exchanges." Specifically, a Chambers interviewee remarks: "Brach Eichler is a first-class firm offering direct contact to senior partners, who have a great knowledge of the industry and are very well thought of in the commercial real estate community." Another interview states, "Brach Eichler is extremely competent at handling complex matters."
In addition, Chambers USA recognized the following individual members of the firm:
John D. Fanburg (Band 1, Healthcare) is the managing member of the firm and chairs its Healthcare Law Practice. He is ranked among the top six attorneys in New Jersey with this highest tier of recognition. Fanburg has a leading transactional practice, which includes a range of complex affiliations and acquisitions, as well as providing regulatory counsel. Chambers cites sources who say Fanburg "has such depth in the physician space and his expertise makes him a star lawyer. John understands the physician perspectives and is excellent at bringing consensus among divergent groups and individuals." He is a resident of Livingston, NJ.
Joseph M. Gorrell (Senior Statespeople, Healthcare) is a member of the Healthcare Law Practice and counsels hospitals, medical staffs, nursing homes, and individual practitioners on a broad scope of issues ranging from transactional matters to regulatory corrective actions. According to Chambers, one source says about Gorrell "He is a skilled negotiator." Gorrell is a resident of Bridgewater, NJ.
Carol Grelecki (Band 3, Healthcare) is a member of the Healthcare Law Practice with experience handling transactions such as acquisitions and joint ventures. She is also recognized for her sophisticated knowledge of regulatory issues. She is among eleven practitioners ranked in this third-tier. According to Chambers, one source says about Grelecki "Carol is an excellent resource in understanding and conveying complex legal issues." Grelecki is a resident of Scotch Plains, NJ.
Alan R. Hammer (Band 1, Real Estate) is a member of the Real Estate Practice and, for nearly 50 years, has concentrated his practice in the areas of investment real estate transactions and tax appeals. He is ranked among the top 12 real estate attorneys in New Jersey. Hammer has been named to the first tier of practitioners every year since 2010. Alan Hammer draws from over four decades of experience handling a broad array of real estate transactions and financing deals for major corporate clients and development businesses. Chambers states that Hammer "Alan is a great negotiator and all around business person who gets the job done properly and quickly. Alan is a leader in the field. He has my total confidence." He resides in Livingston, NJ.
Allen J. Popowitz (Band 2, Real Estate) is the chair of Brach Eichler's Real Estate Practice and a member of the Real Estate Tax Appeals Practice.  He concentrates his practice in the areas of commercial real estate and mortgage lending and advises clients on sales, purchases, financing, leasing, and Internal Revenue Code Section 1031 Tax-Deferred Exchanges. According to Chambers, Popowitz is valued by his clients for his has in-depth experience across the full gamut of commercial and residential real estate matters, including sales, financings, leasing issues and tax work, including incentive schemes. Clients interviewed by Chambers agree "Allen is a pleasure to work with and is a top notch real estate attorney." Popowitz is a resident of Franklin Lakes, NJ.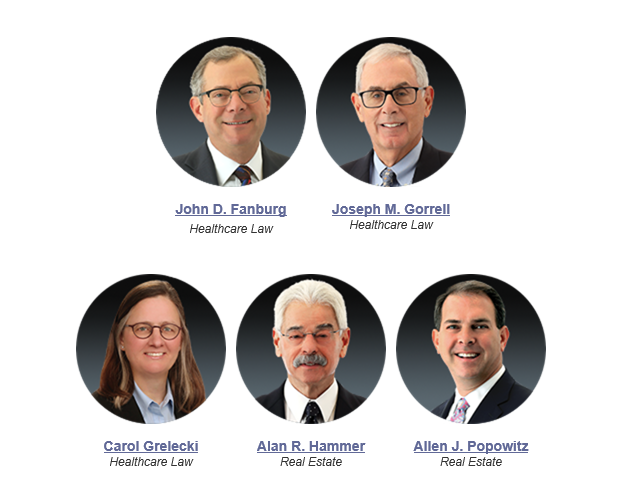 Chambers USA, published annually by Chambers and Partners, is based on in-depth interviews by Chambers' researchers and ranks the leading lawyers and firms in an extensive range of practice areas throughout the country. For additional information about Chambers and its research methodology, visit www.chambers.com.
*No aspect of this advertisement has been approved by the Supreme Court of New jersey.