AAOE 2022 "Ask The Experts" w/Isabelle Bibet-Kalinyak
BACK TO INSIGHTS
Events
Come visit Isabelle Bibet-Kalinyak at the AAO conference October 1 to October 3rd, 2022, in Chicago at McCormick Place Convention Center and ask the expert!
A seasoned and creative problem-solver, Isabelle Bibet-Kalinyak, Esq., concentrates her national healthcare practice representing clients in complex business transactions including private equity transactions, mergers, and strategic partnerships, HIPAA privacy and security compliance matters, ownership and compensation arrangements, employment and partnership negotiations, medical staff matters, and fraud and abuse issues including compliance with the Stark Law and the Anti-Kickback Statute.
Conversations With the Experts is an opportunity for Academy and AAOE members to schedule 20-minute free consultations with consultants listed in the online directory.  It's a great opportunity for Academy and AAOE member to network get their questions answered!. Appointments will be scheduled in advance and onsite by AAOE staff. The Conversations With the Experts area will be open at the Academy Resource Center – Booth 1408:  Saturday, Oct., 1, – Monday, Oct. 3, 9:20 a.m. – 5 p.m.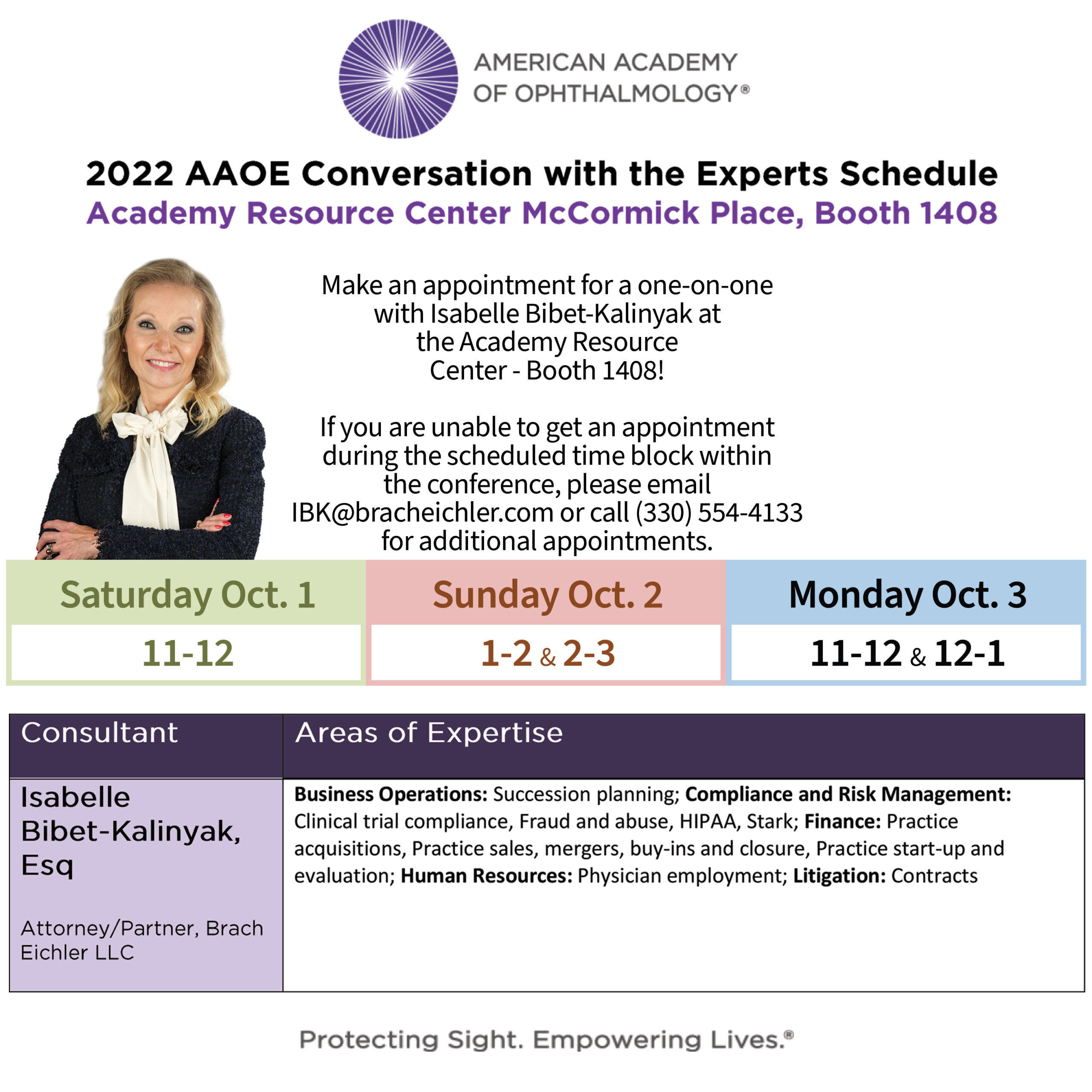 Isabelle Bibet-Kalinyak, Esq.
101 Eisenhower Parkway | Roseland, New Jersey 07068
Direct: 973-403-3131 | Firm: 973-228-5700 | Fax: 973-618-5531
bio | email | vcard | website
New York City | Roseland | Palm Beach