Use of Cameras in NJ-Based Ambulatory Surgery Centers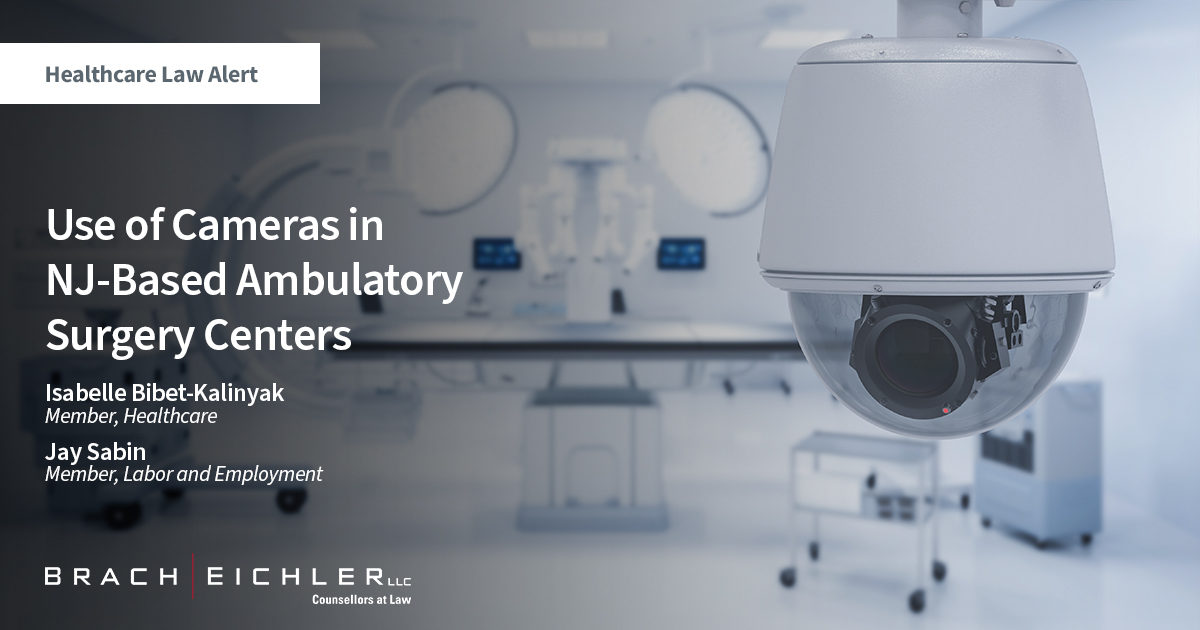 BACK TO INSIGHTS
Alerts
8/6/2023
Use of Cameras in NJ-Based Ambulatory Surgery Centers
This article addresses whether, and under what circumstances, a NJ-based ambulatory surgery center (ASC) may install and use video recording devices to monitor certain areas such as medication carts.
There is no state law or regulation that governs the use of video recording devices by employers in the workplace in New Jersey. However, individuals – including employees and patients invited onto a business' premises – have the right under common law to be free from offensive intentional intrusion.  As New Jersey's highest court explained:
"Intrusion upon seclusion" is a tort that allows individuals whose privacy has been invaded to seek recovery for their injuries. In New Jersey, the tort provides a cause of action against the intentional intrusion, "physical[ ] or otherwise, upon the solitude or seclusion of another … if the intrusion would be highly offensive to a reasonable person."
In light of the caselaw on point, it is recommended that an employer do the following:
1) Explicitly state in its employee handbook that:
Premises are surveilled and video recording may be conducted and, therefore, employees do not have a reasonable expectation of privacy.
Employees are prohibited from using any device to record any audio or video in the workplace unless directed to by a supervisor (for example, for training purposes) or for the purpose of engaging in protected concerted activity under the National Labor Relations Act, but in any event, no patient may be recorded or photographed without the written consent of the patient and such consent may only be requested by a supervisor or at the direction of a supervisor.
Surveillance by the employer will not be conducted in areas where there is an innate expectation of privacy, such as bathrooms and any changing areas, or in any patient care areas.
2) Post signage that the premises are subject to video surveillance.
3) Choose locations where there is a legitimate business reason.  For example, if an employer does not typically video record an employee's cubicle but then installs a camera over a particular employee's cubicle after that employee has complained of illegal harassment, such installation may be evidence of further illegal harassment and/or retaliation.
4) Treat most permissible video recording in a healthcare facility as containing PHI governed by HIPAA and modify the organization's HIPAA policy to address such video recording.  Organizations may consider using video recording devices that automatically block out images – such as patient bodies and computer screens (which may be displaying PHI) – so that PHI is not collected.
5) Have patients sign an acknowledgement that the premises are subject to video surveillance.
6) Consider requiring that all employment-related disputes be resolved in arbitration, rather than before a jury.
7) Consider not recording audio when recording video, as applicable.  If the purpose of video recording is to track medications, then there is no business reason to also record audio.
This article is limited to the use of video recording devices in non-patient areas.  Employer use of other surveillance devices such as vehicle trackers and internet use trackers, or the use of cameras in patient areas, raise additional legal issues beyond the scope of this article. 
For additional information about this and other legal topics, please contact Isabelle Bibet-Kalinyak, Member, Healthcare Law Practice Group, Brach Eichler LLC, (973) 403-3131 or IBK@bracheichler.com, or Jay Sabin, Member, Labor and Employment Practice Group, Brach Eichler LLC, (917) 596-8987 or jsabin@bracheichler.com.
---
About Brach Eichler LLC
Brach Eichler LLC is a full-service law firm based in Roseland, NJ. With over 80 attorneys, the firm is focused in the following practice areas: Healthcare Law; Real Estate; Litigation; Trusts and Estates; Corporate Transactions & Financial Services; Personal Injury; Criminal Defense and Government Investigations; Labor and Employment; Environmental and Land Use; Family Law; Patent, Intellectual Property & Information Technology; Real Estate Tax Appeals; Tax; and Cannabis Law. Brach Eichler attorneys have been recognized by clients and peers alike in The Best Lawyers in America©, Chambers USA, and New Jersey Super Lawyers. For more information, visit www.bracheichler.com.
This alert is intended for informational and discussion purposes only. The information contained in this alert is not intended to provide, and does not constitute legal advice or establish the attorney/client relationship by way of any information contained herein. Brach Eichler LLC does not guarantee the accuracy, completeness, usefulness or adequacy of any information contained herein. Readers are advised to consult with a qualified attorney concerning the specifics of a particular situation.