Our Litigation Practice is Growing!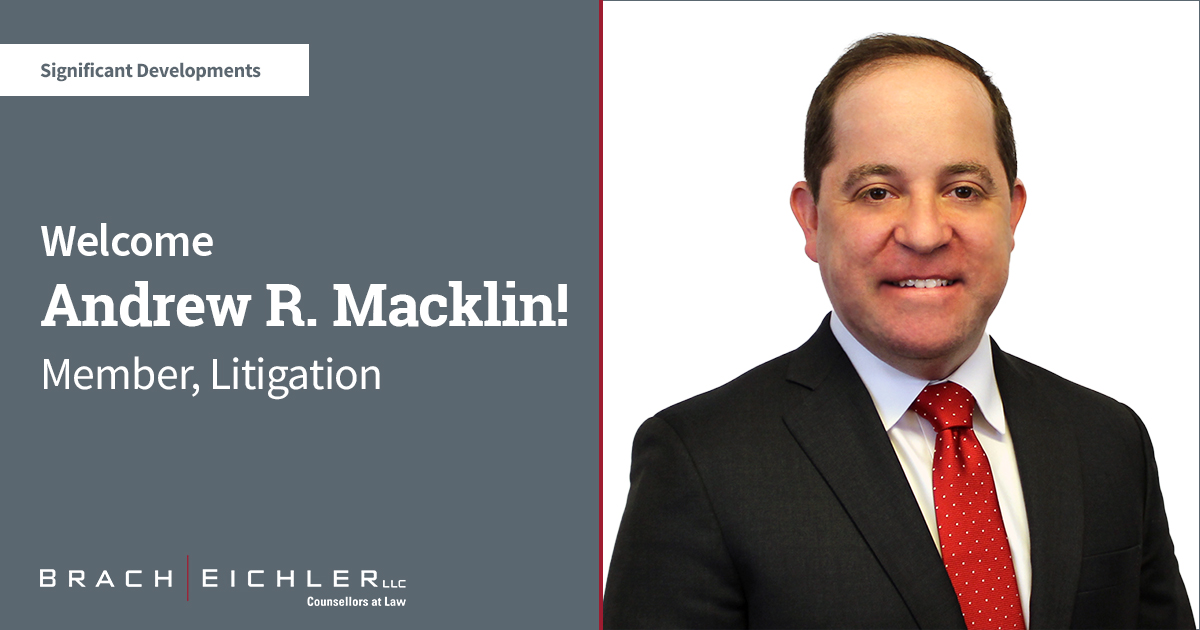 BACK TO INSIGHTS
Firm Announcements & Wins
July 10, 2023
Brach Eichler LLC is pleased to announce the addition of Andrew R. Macklin to the firm's Roseland, New Jersey office. The addition of Andrew to our Commercial Litigation group is part of the firm's continued expansion and commitment to providing exceptional legal services.
"We are pleased to welcome Andrew to the Firm to join the high caliber of skill and integrity that we hold at Brach Eichler," said John Fanburg, Managing Member of Brach Eichler. "He is an outstanding attorney who will offer first-rate knowledge and personalized attention to our clients."
A highly-skilled litigator with extensive experience in complex commercial litigation, Andrew R. Macklin focuses his practice on construction litigation, complex commercial litigation, consumer protection and probate disputes.  Prior to joining the firm, Macklin was a Partner with Cohn Lifland Pearlman Herrmann & Knopf LLP. He also served as an adjunct professor at Fordham University School of Law, teaching trial advocacy through the award-winning Brendan Moore Trial Advocacy Center. Macklin recently completed his term serving on the Attorney Ethics Committee for District IIA. He holds a B.A. from Emory University and a J.D. from Fordham University School of Law. Macklin is a graduate of the Justice Morris Pashman American Inn of Court. He resides in Chatham, NJ.
Knowledgeable across a wide spectrum of issues, Brach Eichler's deep bench of commercial litigation attorneys in New Jersey have the experience and resources to address and resolve your company's needs and legal concerns. We serve as trusted advisors to our clients in matters from initial case assessment to resolution with proactive thinking and provide counsel on how to avoid or minimize potential liability in personal, professional, and business activities. Understanding risk and damage exposure guides our pre-litigation strategies. Our lawyers seek to resolve legal matters with an efficient and cost-effective approach. But at the same time, we are zealous advocates. Most important, we build long-term relationships with our clients. We learn the business, the industry, and the culture of our clients so we can deliver exceptional and value-driven legal services.
The litigation attorneys at Brach Eichler are active members of the trial bar in the state and federal courts of New Jersey, New York, Pennsylvania, and other jurisdictions. And of note, several members of the litigation practice have been recognized by the New Jersey Supreme Court as Certified Civil Trial Attorneys.
Learn more about Andrew and our Commercial Litigation Practice at www.bracheichler.com.
---
About Brach Eichler LLC
Brach Eichler LLC is a full-service law firm based in Roseland, NJ. With over 80 attorneys, the firm is focused in the following practice areas: Healthcare Law; Real Estate; Litigation; Trusts and Estates; Corporate Transactions & Financial Services; Personal Injury; Criminal Defense and Government Investigations; Labor and Employment; Environmental and Land Use; Family Law; Patent, Intellectual Property & Information Technology; Real Estate Tax Appeals; Tax; and Cannabis Law. Brach Eichler attorneys have been recognized by clients and peers alike in The Best Lawyers in America©, Chambers USA, and New Jersey Super Lawyers. For more information, visit www.bracheichler.com.