Ophthalmology Provider Settles Co-Management Kickback Allegations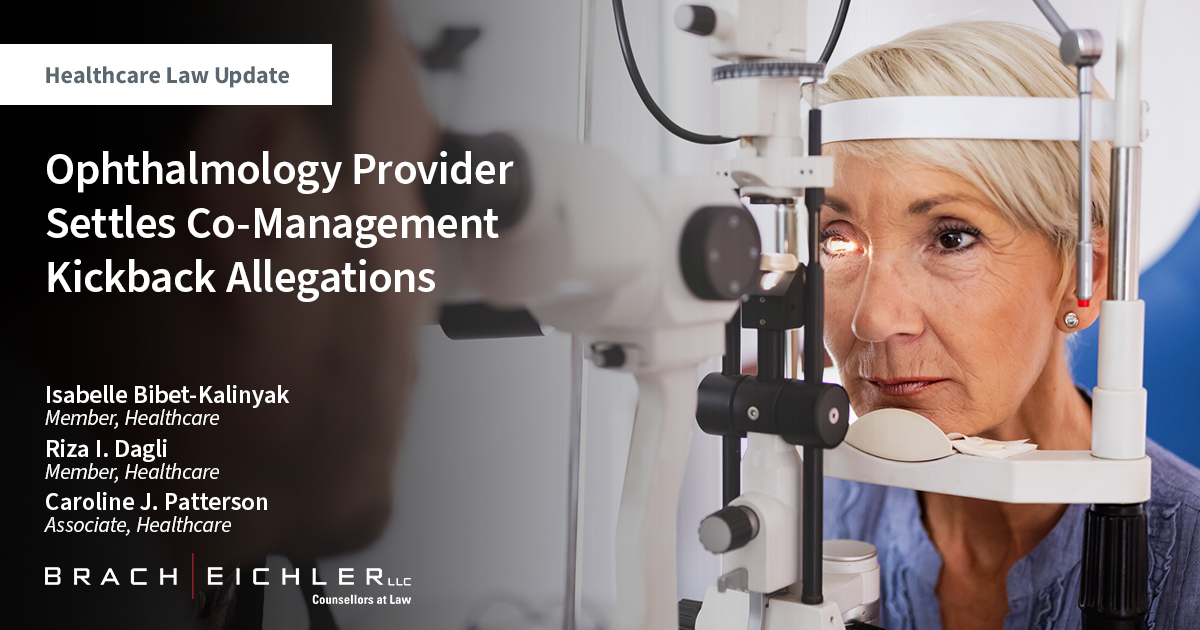 BACK TO INSIGHTS
Articles
4/30/2023
On March 23, 2023, the Department of Justice announced that a Texas-based ophthalmology provider group, Kleiman Evangelista Eye Centers (KE), agreed to pay $2,902,505 to resolve allegations that it offered and paid kickbacks to optometrists to induce referrals of patients who were candidates for cataract surgery in violation of the False Claims Act and Anti-Kickback Statute.
The claims against KE related to its co-management arrangements with referring optometrists. Co-management of cataract surgery patients is a common practice between optometrists and the ophthalmologists to whom they refer patients. Although such arrangements are permissible, to the extent they provide either party with financial benefits in exchange for referrals, they can pose a liability to the parties under the Anti-Kickback Statute, which prohibits offering, paying, soliciting, or receiving remuneration to induce referrals of items or services covered by Medicare, Medicaid, and other federally funded programs.
In this case, the government accused KE of providing unlawful remuneration to referring optometrists by paying the optometrists additional fees for referring cataract patients who received premium intraocular lenses or laser-assisted cataract surgery (in addition to the reimbursement already received by the optometrists from Medicare and Medicaid for performing post-operative cataract care). Additionally, KE is accused of guaranteeing the automatic return of referred patients, providing the optometrists free continuing education courses, rewarding top referring optometrists with expensive dinners, and inviting referring optometrists, their families, and staff to major-league baseball games at the company suite.
The case was brought by a relator physician affiliated with KE and was part of a coordinated effort with the U.S. Attorney's Office, Eastern District of Texas, and the United States Department of Health and Human Services, Office of Inspector General. The claims resolved by the settlement were for allegations only, and there was no determination of liability.