OIG Approves Providing Gift Cards to Promote Patient Compliance for Colon Cancer Screening Test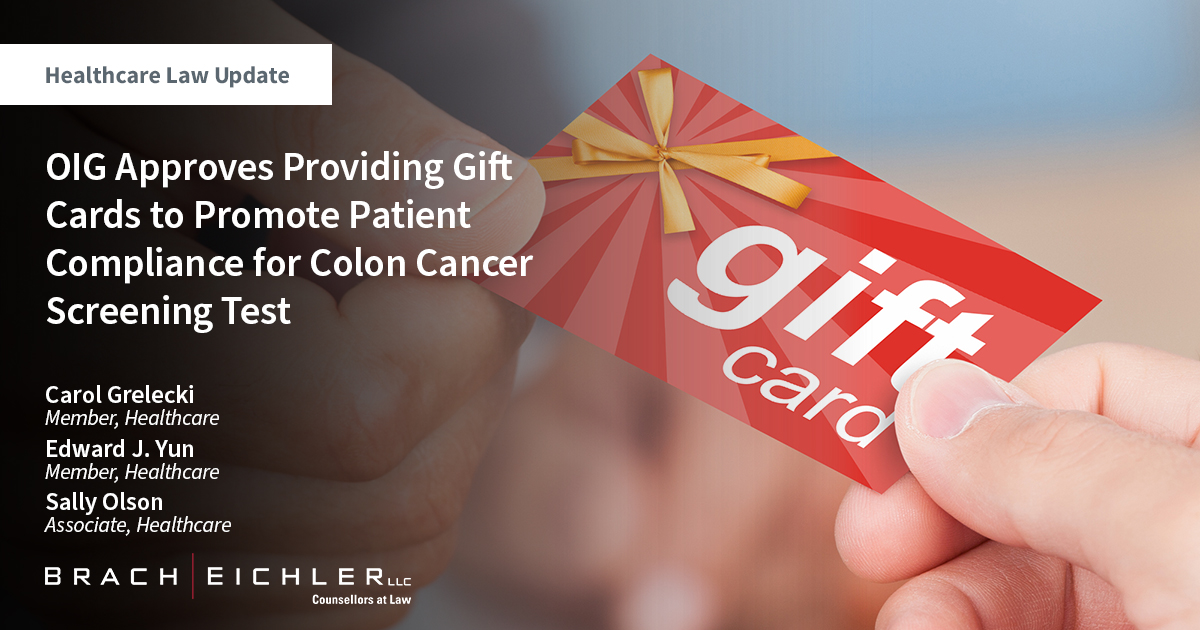 BACK TO INSIGHTS
Articles
5/31/2023
On March 24, 2023, the Department of Health and Human Services Office of Inspector General (OIG) issued Advisory Opinion 23-03 allowing a proposed arrangement where a manufacturer of a colorectal cancer screening test and its processing laboratory issues prepaid Visa or Mastercard gift cards to federal healthcare program beneficiaries. These gift cards would encourage patients to return their test kits for processing and increase the detection of possible colorectal cancer. The OIG determined that, while the proposed arrangement may implicate the prohibition against beneficiary inducements under the federal Civil Monetary Penalties Law (CMP) and the federal Anti-Kickback Statute (AKS), the OIG would not impose sanctions.
Typically, the beneficiary's physician prescribes the colorectal screening test, the manufacturer mails the test kit to the beneficiary's home, and the beneficiary collects the stool sample and returns the test kit for processing. Under the proposed arrangement, if the test kit is not received within a certain period of time, the laboratory will send a final reminder indicating that, if the laboratory receives the sample promptly, the laboratory will send the beneficiary a Visa or Mastercard gift card of up to $75. First, the OIG determined that the gift card would not violate the CMP because "remuneration" under that law excludes incentives to beneficiaries that promote the delivery of preventive care. Second, the OIG found that the gift card presented a minimal risk of fraud and abuse under the AKS because it is unlikely to lead to overutilization of services, encourages patient compliance, and includes additional safeguards. The safeguards include: advising beneficiaries that the gift card may not be used for items or services provided by the laboratory, each beneficiary would be limited to one gift card in a 36-month period, and there would be no advertisement of the arrangement to prescribers or beneficiaries.
This opinion is consistent with other advisory opinions relating to gift card arrangements to federal health care program beneficiaries and shows that the OIG is poised to address all types of gift card programs. Healthcare providers interested in developing gift card arrangements for patients should carefully consider OIG's analysis of such arrangements.