Non-Competes and Non-Solicitation Provisions Will Now Be Prosecuted as Unfair Labor Practices Under Federal Labor Law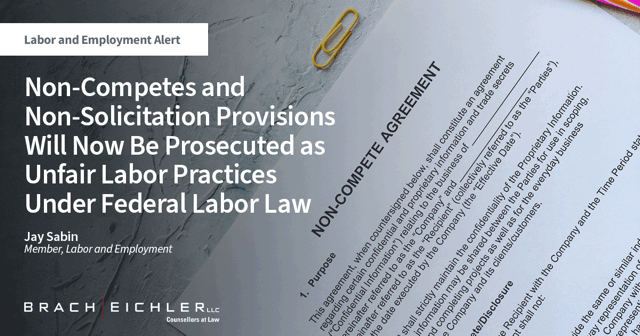 BACK TO INSIGHTS
Alerts
6/7/2023
We have previously reported about legislative and regulatory attempts to limit the use of non-compete provisions in the workplace, and we have also reported about limits on using confidentiality and non-disparagement provisions in agreements with non-supervisory employees.  Most recently, on May 30, 2023, the General Counsel of the National Labor Relations Board (NLRB) announced that her office will treat non-compete and employee non-solicitation provisions as illegal under federal labor law absent special circumstances.
The NLRB General Counsel's memo explaining the policy change opines that the proffer, the maintenance, and the enforcement of a non-compete / non-solicit provision is each an unfair labor practice because of the impact anyone of those actions can have on an employee's right to act collectively for the betterment of wages and other employment terms and conditions.  Those employee actions are protected by federal labor law.  The memo concedes that there may be exceptions, such as when a non-compete is connected to the person's ownership stake in the company, but argues that non-competes directed at low-wage or middle-wage workers will rarely be legal.
The NLRB General Counsel is responsible for deciding whether to pursue claims of illegal conduct under federal labor law by prosecuting those claims administratively as unfair labor practices.  The May 30, 2023 announcement directs all NLRB regional offices, which initially receive charges alleging illegal conduct, to direct the charges to the General Counsel's office for processing.  Typically, these charges are processed locally.  The upshot is that the General Counsel's office will be making a centralized, nation-wide decision about which non-compete clauses to prosecute as unfair labor practices.  It will then be up to an administrative law judge followed by the National Labor Relations Board to decide whether the General Counsel has established its case.
Non-competes are common.  One in five U.S. employees, approximately 30 million people overall, work under one, according to the Federal Trade Commission.  The NLRB General Counsel's approach impacts nearly every non-supervisory employee who works for a non-governmental employer regardless whether the person is union-represented.  While neither the State of New Jersey nor the FTC have yet enacted their respective limitations on non-competes, private sector employers must now be mindful of being prosecuted for violating the National Labor Relations Act whenever demanding a non-compete or enforcing an existing one.
It is recommended that employers prepare for this policy change by:
Reviewing the jobs for which employees are required to enter into non-competes and determining whether to limit the scope;
Reviewing whether non-competes can be revised to avoid potentially infringing on an employee's federal labor law rights; and
Considering whether non-compete limitations can be limited to equity and phantom equity grants.
For questions regarding this alert, or with any other labor and employment issue, please contact:
Jay Sabin, Member, Labor and Employment Practice, at jsabin@bracheichler.com or 917-596-8987
---
About Brach Eichler LLC
Brach Eichler LLC, is a full-service law firm based in Roseland, NJ. With over 80 attorneys, the firm is focused in the following practice areas: Healthcare Law; Real Estate; Litigation; Trusts and Estates; Business Transactions & Financial Services; Personal Injury; Criminal Defense and Government Investigations; Labor and Employment; Environmental and Land Use; Family Law; Patent, Intellectual Property & Information Technology; Real Estate Tax Appeals; Tax; and Cannabis Law. Brach Eichler attorneys have been recognized by clients and peers alike in The Best Lawyers in America©, Chambers USA, and New Jersey Super Lawyers. For more information, visit www.bracheichler.com.
This alert is intended for informational and discussion purposes only. The information contained in this alert is not intended to provide, and does not constitute legal advice or establish the attorney/client relationship by way of any information contained herein. Brach Eichler LLC does not guarantee the accuracy, completeness, usefulness or adequacy of any information contained herein. Readers are advised to consult with a qualified attorney concerning the specifics of a particular situation.