NJ DOH Issues Revised Executive Directive Setting Forth COVID-19 Protocols for Ambulatory Surgery Centers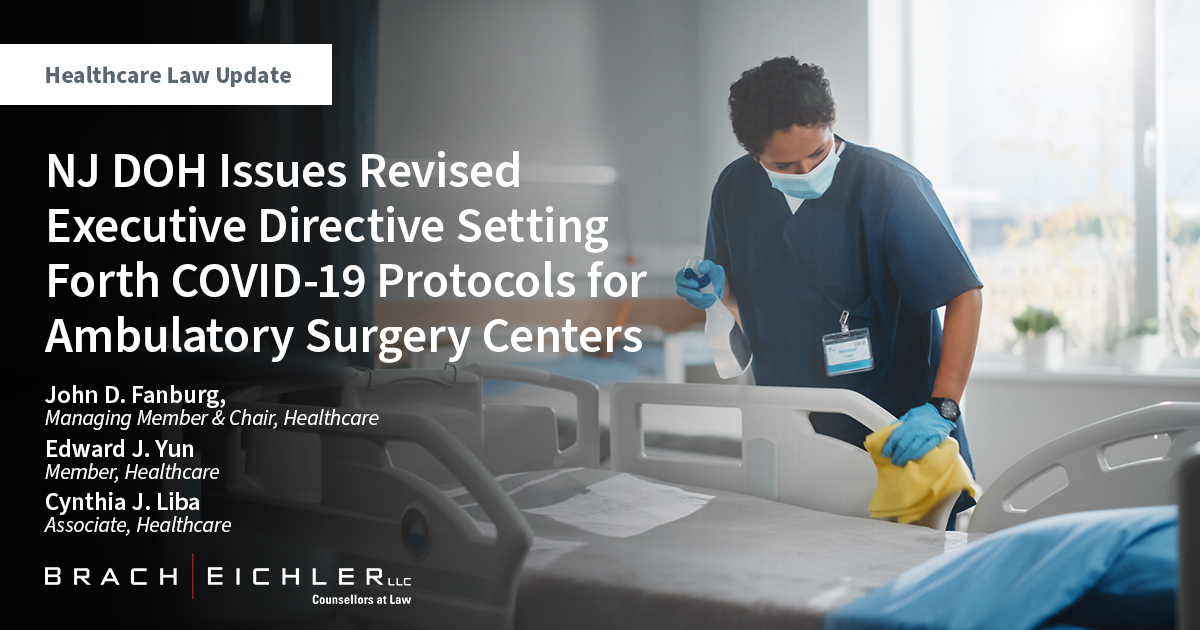 BACK TO INSIGHTS
Articles
January 31, 2023
On January 20, 2023, the Commissioner of the New Jersey Department of Health (NJDOH) issued a revised Executive Directive 20-016 (Revised ED) setting forth COVID-19 protocols for ambulatory surgery centers (ASCs) performing elective surgeries and invasive procedures. This Revised ED is in response to the current phase of the COVID-19 emergency.
Generally, the Revised ED requires ASCs to take the following steps to protect its healthcare workforce, patients and visitors:
• Comply with all current (a) infection prevention and control recommendations, (b) interim guidance for managing healthcare personnel with infection with, or exposure to, SARS CoV-2, (c) interim guidance on ending isolation and precautions for people with COVID-19, and (d) strategies to mitigate healthcare personnel staffing shortages, from the Centers for Disease Control and Prevention (CDC).
• Comply with all current Centers for Medicare and Medicaid Services (CMS) requirements, including staff vaccination requirements, if the ASC is CMS certified.
• Comply with state and local public health authority requirements for identification, reporting, and containing communicable diseases and outbreaks.
• Continue to monitor the CDC Community Transmission Levels reported on the CDC COVID-19 Data Tracker and included in the weekly NJDOH COVID-19 Surveillance Report and to modify clinical services as appropriate.
Moreover, ASCs must have onsite an adequate supply of personal protective equipment (PPE), including gloves, gowns, surgical masks, eye protection, N95 respirators or higher, in accordance with NIOSH and FDA.
Finally, ASCs must have policies addressing support persons and visitors that prioritize the safety and well-being of patients, patient support persons, and staff. To that end, until further notice, visitors and support persons are allowed, consistent with CMS requirements and guidance. Moreover, when visitation and support is otherwise restricted, support persons may obtain waivers from the NJDOH.
The Revised ED takes effect immediately and shall remain in full force and effect until revoked or modified by the NJDOH or until the State of Emergency is no longer in effect, whichever is sooner. Brach Eichler will issue a special alert on this topic shortly.