New York Implements Notice Requirement for Health Care Entity Transactions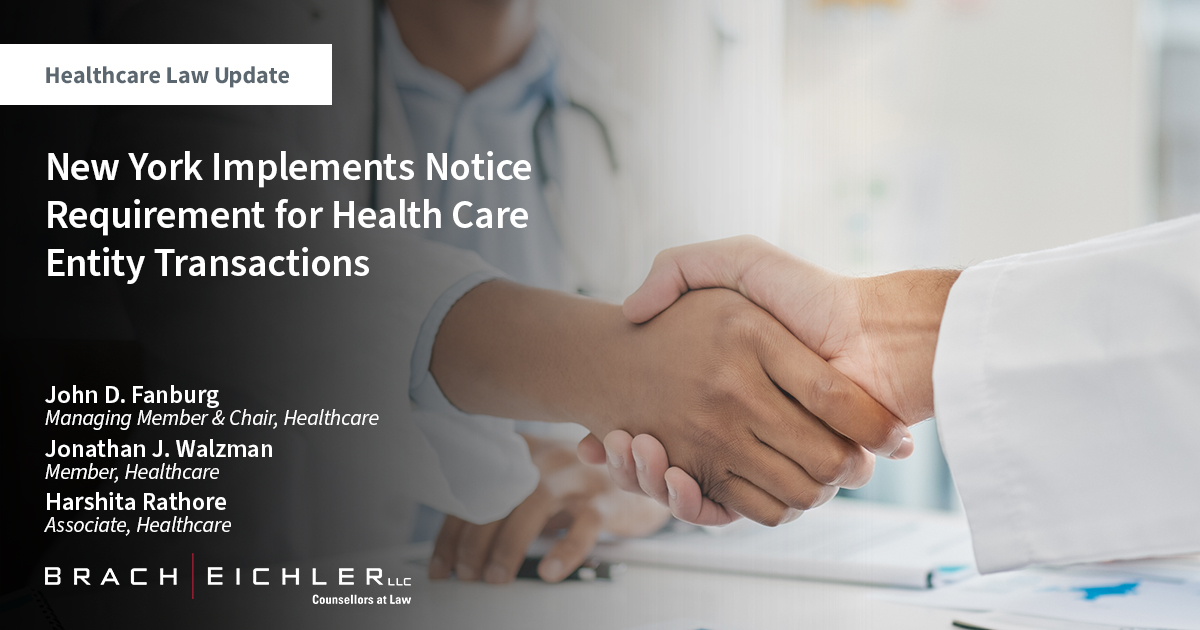 BACK TO INSIGHTS
Articles
6/30/2023
On May 3, 3023, New York State enacted a new law that requires health care entities to provide written notice and supporting documentation to the State Department of Health (DOH) at least 30 days before closing certain significant transactions. However, the new law does not require the DOH's approval for these transactions. The new law will become effective as of August 1, 2023. Failure to comply with the notification requirement can lead to civil penalties ranging from $2,000 to $10,000 per day of noncompliance.
The new law applies to "material transactions" involving health care entities such as physician practices, management services organizations or similar entities providing administrative or management services under contract with physician practices, provider-sponsored organizations, health insurance plans or any other kind of health care facility, organization or plan providing health care services in New York. The new law does not apply to transactions involving insurers and pharmacy benefit managers. The new law defines "material transaction" to include mergers, acquisitions, affiliations, and the formation of partnerships or management organizations related to health care administration.
The written notice required under the new law must contain specific information, including the names and addresses of the parties involved, copies of relevant agreements, details of current service locations and revenue, plans for service reductions or network participation, closing dates, and a description of the transaction's impact on cost, quality, access, health equity, and competition. There are certain exceptions to the notice requirement, including clinical affiliations formed for collaborating on clinical trials or graduate medical programs, "de minimis" transactions resulting in an increase of less than $25 million in total gross in-state revenues for a health care entity, and transactions already subject to review under specific articles of the New York Public Health Law.
For more information, contact:
John D. Fanburg, Chair | 973.403.3107 | jfanburg@bracheichler.com
Jonathan J. Walzman | 973.403.3120 | jwalzman@bracheichler.com
Harshita Rathore | 973.364.8393 | hrathore@bracheichler.com
---
About Brach Eichler LLC
Brach Eichler LLC is a full-service law firm based in Roseland, NJ. With over 80 attorneys, the firm is focused in the following practice areas: Healthcare Law; Real Estate; Litigation; Trusts and Estates; Corporate Transactions & Financial Services; Personal Injury; Criminal Defense and Government Investigations; Labor and Employment; Environmental and Land Use; Family Law; Patent, Intellectual Property & Information Technology; Real Estate Tax Appeals; Tax; and Cannabis Law. Brach Eichler attorneys have been recognized by clients and peers alike in The Best Lawyers in America©, Chambers USA, and New Jersey Super Lawyers. For more information, visit www.bracheichler.com.
This alert is intended for informational and discussion purposes only. The information contained in this alert is not intended to provide, and does not constitute legal advice or establish the attorney/client relationship by way of any information contained herein. Brach Eichler LLC does not guarantee the accuracy, completeness, usefulness or adequacy of any information contained herein. Readers are advised to consult with a qualified attorney concerning the specifics of a particular situation