Managing Your Company's 401k Plan and Avoiding Excessive Fee Lawsuits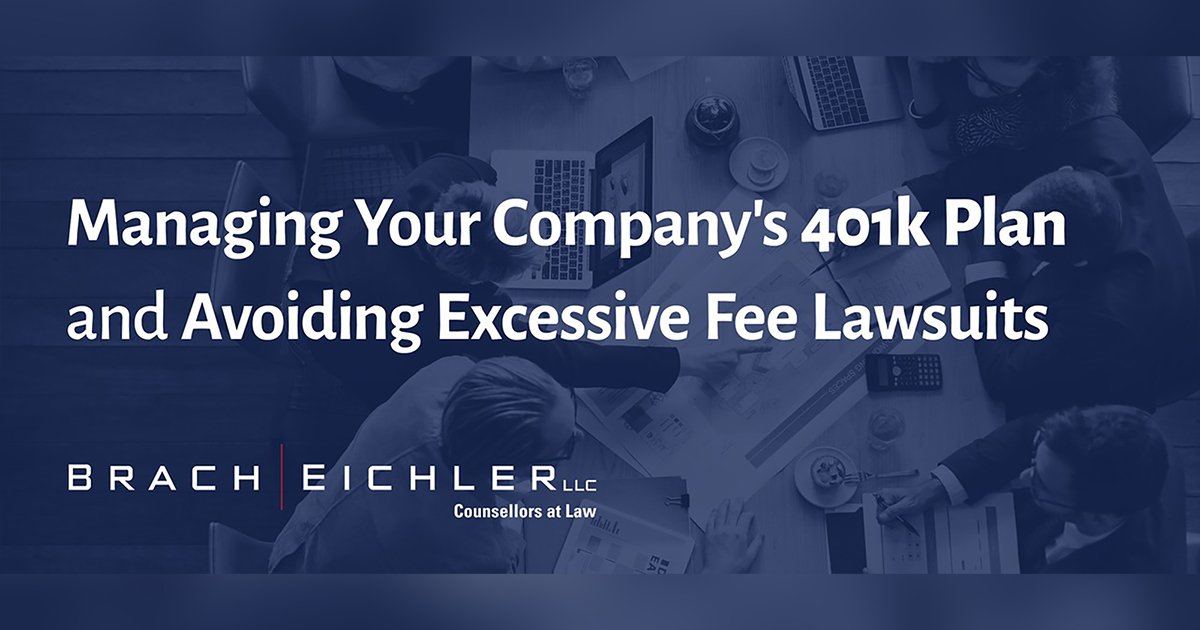 BACK TO INSIGHTS
Events
SEMINAR:
Managing Your Company's 401k Plan and Avoiding Excessive Fee Lawsuits
Hundreds of lawsuits have been filed against 401k plans in the past few years, generating the following types of headlines:
The Dramatic Rise in Excessive 401k Fee Litigation – And Who's Fighting It
Is Your 401k Plan at Risk of a Lawsuit
Surge in Excessive Fee Litigation is Impacting Fiduciary Liability Insurance
Maybe You Should Sue Your 401k Sponsor
Sharp Rise in 401(k) Lawsuits Now Threatens Small Businesses
What's driving this litigation sea-change and how can employers avoid being sued, offer their employees a sound retirement savings vehicle, and satisfy their ERISA fiduciary obligations will be answered during this seminar.
PRESENTERS
Jay Sabin, Esq. – Brach Eichler, LLC Benefits Attorney.
Harris Nydick, CFP®, AIFA® – CFS Investment Advisory Services, LLC, Founding Partner & Managing Member
DATE, TIME & LOCATION:
Tuesday, September 26, 2023
5:30 – 8:00PM
Brach Eichler LLC
101 Eisenhower Parkway, Roseland, NJ. 
Networking cocktail reception pre- and post-seminar. CLE, CPE & CFP credits anticipated.
RSVP
Please RSVP to Ilana Schackman by September 8 at ischackman@bracheichler.com. Limited space available. 
*For a more in depth discussion in advance of the seminar, click here.
---
About Brach Eichler LLC
Brach Eichler LLC is a full-service law firm based in Roseland, NJ. With over 85 attorneys, the firm is focused on the following practice areas: Healthcare Law; Real Estate; Litigation; Trusts and Estates; Corporate Transactions & Financial Services; Personal Injury; Criminal Defense and Government Investigations; Labor and Employment; Environmental and Land Use; Family Law; Patent, Intellectual Property & Information Technology; Real Estate Tax Appeals; Tax; and Cannabis Law. Brach Eichler attorneys have been recognized by clients and peers alike in The Best Lawyers in America©, Chambers USA, and New Jersey Super Lawyers. For more information, visit www.bracheichler.com.