Executive Order 332 Lifts COVID-19 Vaccination Requirements For Healthcare Settings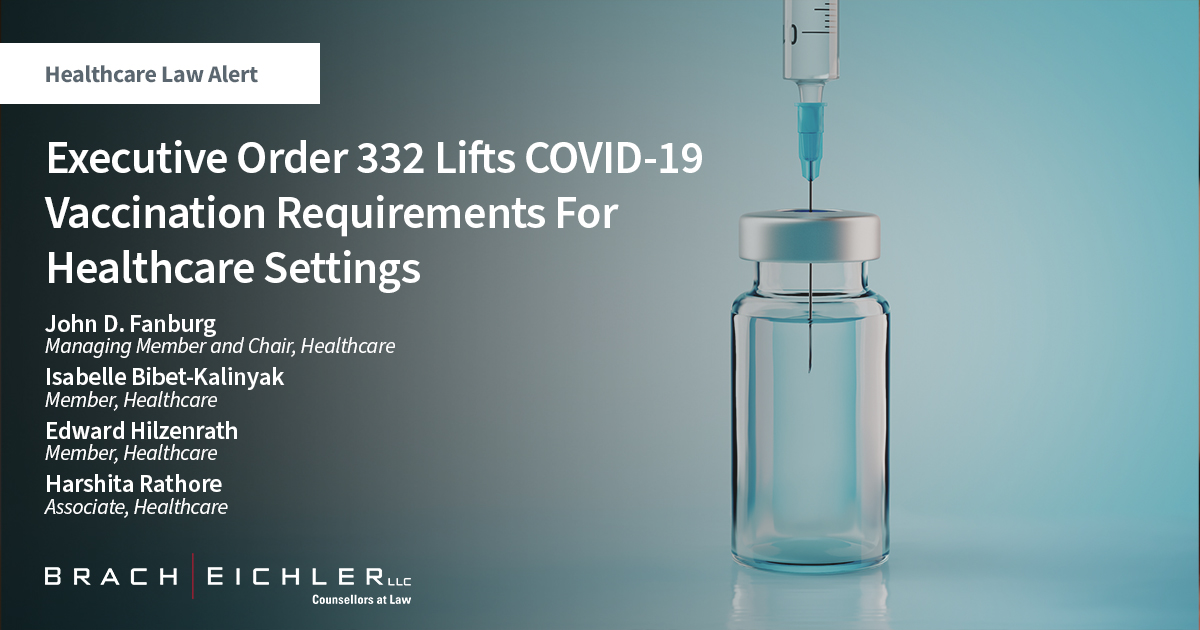 BACK TO INSIGHTS
Alerts
June 14, 2023
On June 12, 2023, Governor Murphy signed Executive Order 332 (EO 332), lifting COVID-19 vaccination requirements for covered workers at health care settings. EO 332 follows the latest final rule published by the Centers for Medicare and Medicaid Services on June 5, 2023, which withdraws interim final rules that mandated COVID-19 testing and vaccinations.
EO332 took effect immediately on June 12, 2023 and will remain in effect until revoked or modified by the Governor.  Health care settings are therefore no longer required to maintain a policy that requires covered workers to be up to date with their COVID-19 vaccinations. However, they may implement and enforce their own COVID-19 vaccination or testing policy.
Health care settings include:
Acute, pediatric, inpatient rehabilitation, and psychiatric hospitals, including specialty hospitals, and ambulatory surgical centers;
Long-term care facilities;
Intermediate care facilities;
Residential detox, short-term, and long-term residential substance abuse disorder treatment facilities;
Clinic-based settings like ambulatory care, urgent care clinics, dialysis centers, Federally Qualified Health Centers, family planning sites, and Opioid Treatment Programs;
Community-based healthcare settings including Program of All-inclusive Care for the Elderly, pediatric and adult medical day care programs; and
Licensed home health agencies and registered healthcare service firms operating within the State.
Covered workers include all the following:
Full and part-time employees;
Contractors; and
Other individuals working in health care settings, including individuals providing operational, custodial services, or administrative support.
For the avoidance of doubt, private physician offices are not subject to vaccination requirements.
For more information, contact:
John D. Fanburg, Managing Member and Chair, Healthcare Law, at 973-403-3107 or jfanburg@bracheichler.com
Isabelle Bibet-Kalinyak, Member, Healthcare Law, at 973-403-3131 or ibibetkalinyak@bracheichler.com
Edward Hilzenrath, Member, Healthcare Law, at 973-403-3114 or ehilzenrath@bracheichler.com
Harshita Rathore, Associate, Healthcare Law, at 973-364-8393 or hrathore@bracheichler.com
---
About Brach Eichler LLC
Brach Eichler LLC is a full-service law firm based in Roseland, NJ. With over 80 attorneys, the firm is focused in the following practice areas: Healthcare Law; Real Estate; Litigation; Trusts and Estates; Corporate Transactions & Financial Services; Personal Injury; Criminal Defense and Government Investigations; Labor and Employment; Environmental and Land Use; Family Law; Patent, Intellectual Property & Information Technology; Real Estate Tax Appeals; Tax; and Cannabis Law. Brach Eichler attorneys have been recognized by clients and peers alike in The Best Lawyers in America©, Chambers USA, and New Jersey Super Lawyers. For more information, visit www.bracheichler.com.
This alert is intended for informational and discussion purposes only. The information contained in this alert is not intended to provide, and does not constitute legal advice or establish the attorney/client relationship by way of any information contained herein. Brach Eichler LLC does not guarantee the accuracy, completeness, usefulness or adequacy of any information contained herein. Readers are advised to consult with a qualified attorney concerning the specifics of a particular situation