Eighth Circuit Splits with Third, Creates "But For" Causation Test For FCA Claims Based on Anti-Kickback Statute Violations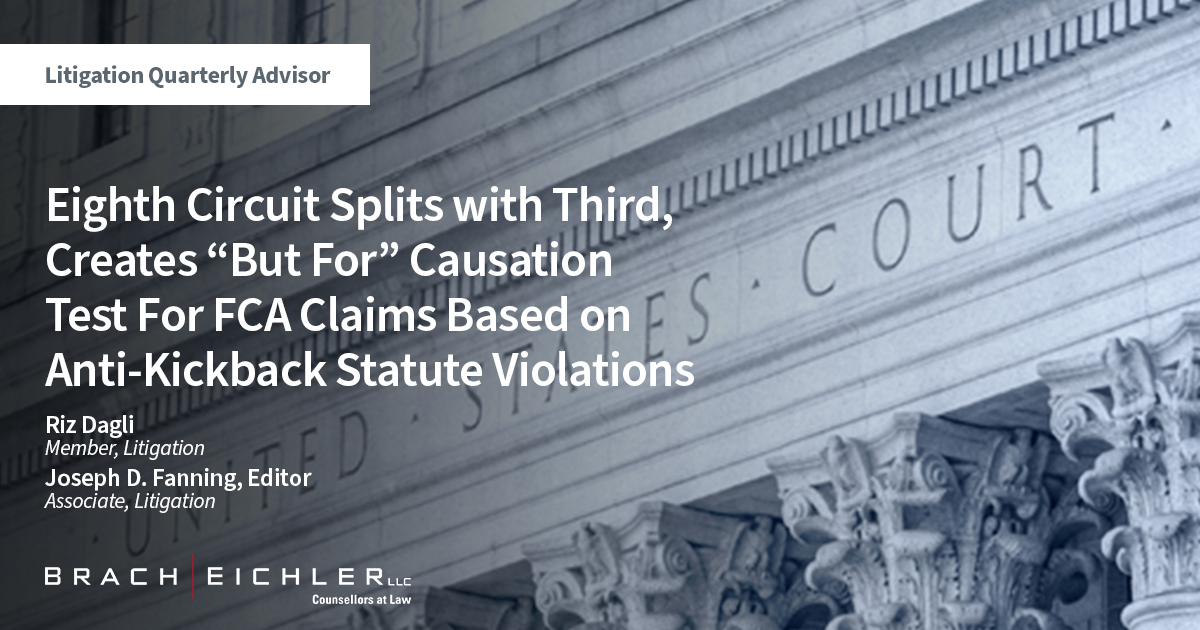 BACK TO INSIGHTS
Articles
In a significant win for defendants in False Claims Act ("FCA") litigation, the Eighth Circuit Court of Appeals recently issued an opinion adopting a heightened standard of proof for FCA claims premised on violations of the Anti-Kickback Statute ("AKS"). In United States ex rel. Cairns v. D.S. Medical LLC, 42 F.4th 828 (8th Cir. 2022), the Eighth Circuit held for the first time that to succeed on an FCA claim based on AKS violations, the illegal kickbacks must have been an actual cause of the submission of a false claim for payment under a federal healthcare program. That is, a plaintiff must prove that the false claim would not have been submitted but for the underlying illegal kickbacks. Id. at 836-37.
The decision breaks with a 2018 Third Circuit ruling which reached a contrary result, creating a circuit split and increasing the possibility of Supreme Court intervention. In United States ex rel. Greenfield v. Medco Health Solutions, Inc., 880 F.3d 89 (3d Cir. 2018), the Third Circuit expressly rejected the "but for" causation test the Eighth Circuit adopted in Cairns. In reaching its decision, the Third Circuit examined the legislative history behind the FCA and AKS and found that while some "link" is required between the alleged false claim and the underlying AKS violation, a direct causal link is not required. Id. at 95-98.
From a practical standpoint, the Eighth Circuit's decision means that in a hypothetical scenario involving an alleged kickbacks-for-referrals arrangement, under the Cairns standard, a plaintiff may be unable to prove an FCA violation if the referral would have occurred regardless of the kickbacks, or if the patient sought the treatment at issue independent of any referral. By contrast, under the Third Circuit's standard, it seems enough that the patient was referred for the
treatment by an entity which received kickbacks from the defendant in violation of the AKS, regardless of whether the kickbacks directly caused the referral. While the Eighth Circuit's ruling in Cairns is a welcome development, cases arising within the jurisdiction of the Third Circuit, including in New Jersey, will continue to be evaluated under the more lenient standard announced in Greenfield.
Given the diversity of proofs required in different jurisdictions, and the significant civil and criminal penalties at stake in this developing area of law, healthcare providers should consult experienced counsel regarding their compliance with and defenses under the FCA and AKS.