Court granted motion providing our client with $250,000 in PIP benefits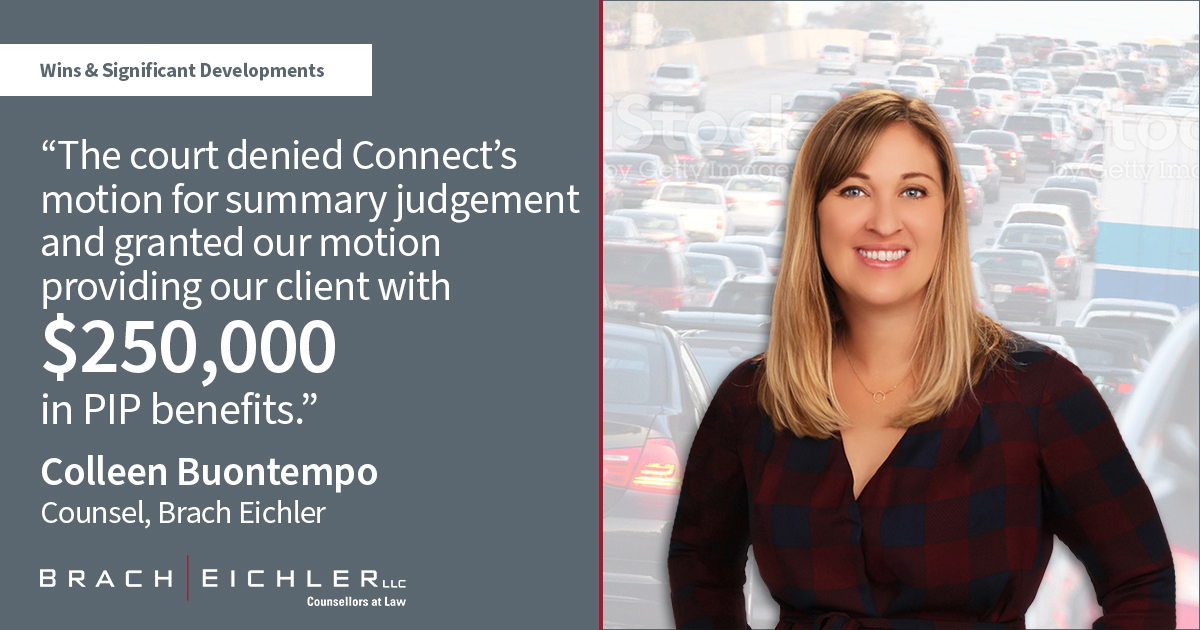 BACK TO INSIGHTS
Articles
Brach Eichler's Colleen Buontempo represented an individual in a declaratory judgment matter (Connect v. Idelkahni, et al. SSX-L-198-20) where the insurer sought to disclaim personal injury protection (PIP) coverage based on the alleged material misrepresentation and fraud.
Connect alleged that our client's brother made a material misrepresentation and committed fraud by failing to list her as a resident relative on his 2010 insurance application and continued to commit fraud by failing to disclose her a resident relative up until she was injured in a 2018 motor vehicle accident. Benefits were denied on this theory.
At the close of discovery, Connect moved for summary judgment.
Colleen cross-moved for summary judgment arguing that the initial application only required resident relatives to be disclosed if they didn't have their own vehicle or insurance. At the time of the application, despite living with her brother, our client had a car which was insured by her cousin. Therefore, there was no reason to disclose her on the initial application.  As time went on, her brother never disclosed our client because she bounced around between friends' and families' homes, and he did not consider her a full-time resident of his home. Finally, Colleen asserted the client was a permissive driver of her brother's vehicle at the time of the accident and should  be entitled to the full $250,000 in PIP benefits.
The Court agreed with Colleen's position. In doing so, the Court denied Connect's motion for summary judgement and granted our motion providing our client with $250,000 in PIP benefits.