CMS Issues Guidance for Expiration of COVID-19 Public Health Emergency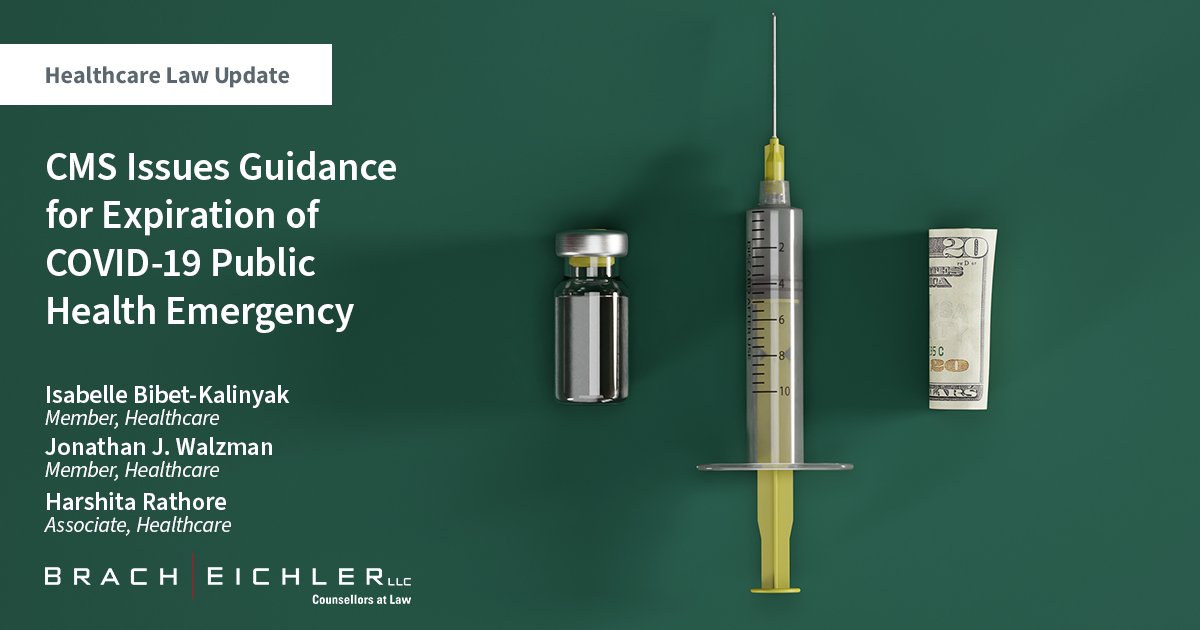 BACK TO INSIGHTS
Articles
5/31/2023
The Centers for Medicare and Medicaid Services (CMS) recently issued guidance addressing the status of certain temporary rules and waivers that were instituted as a result of the COVID-19 Public Health Emergency (PHE), which is set to expire on May 11, 2023. The guidance includes a long list of rule waivers and modifications that were put in place by CMS during the PHE that will either terminate when the PHE finally expires or that will continue for either a limited or indefinite duration.
Among the rules addressed by the new guidance, cost sharing for COVID-19 tests will continue to be waived for fee-for-service Medicare beneficiaries, while Medicare Advantage plans may institute cost sharing at their discretion. Also, state Medicaid programs will be required to cover COVID-19 vaccinations, testing, and treatment without cost-sharing through September 30, 2024. In addition, certain flexibilities that CMS instituted during the PHE to provide Medicare beneficiaries with broader access to telehealth services will continue through December 31, 2024.
With the expiration of the PHE, all Medicare providers and suppliers will be required to comply with emergency preparedness rules that were waived during the PHE. CMS will also reinstate rules regarding pre-admission hospitalization and wellness requirements for patients requiring care at skilled nursing facilities, and rules relating to preadmission screenings, transfers, and discharge for residents of long-term care facilities. CMS will also change COVID-19 reporting obligations, education requirements, vaccination requirements, and testing requirements for both long term care, inpatient, and outpatient facilities.
CMS is also terminating some of the flexibilities that were instituted for certain types of acute and continuing care providers. Ambulatory Surgical Centers (ASC) and Licensed Independent Freestanding Emergency Departments (IFED) that elected to temporarily enroll in Medicare as a hospital according to emergency rules that were promulgated during the PHE will be required to either revert to ASC or IFED status or apply to Medicare to become fully Medicare certified as a hospital. ASCs will once again be required to periodically review medical staff privileges and the scope of procedures performed in the ASC. Also, certain emergency waivers that modified the supervision requirements for certified nurse anesthetists at hospitals, critical care facilities, and ASCs will end when the PHE expires.