Biden Administration Announces End of Covid-19 National Emergency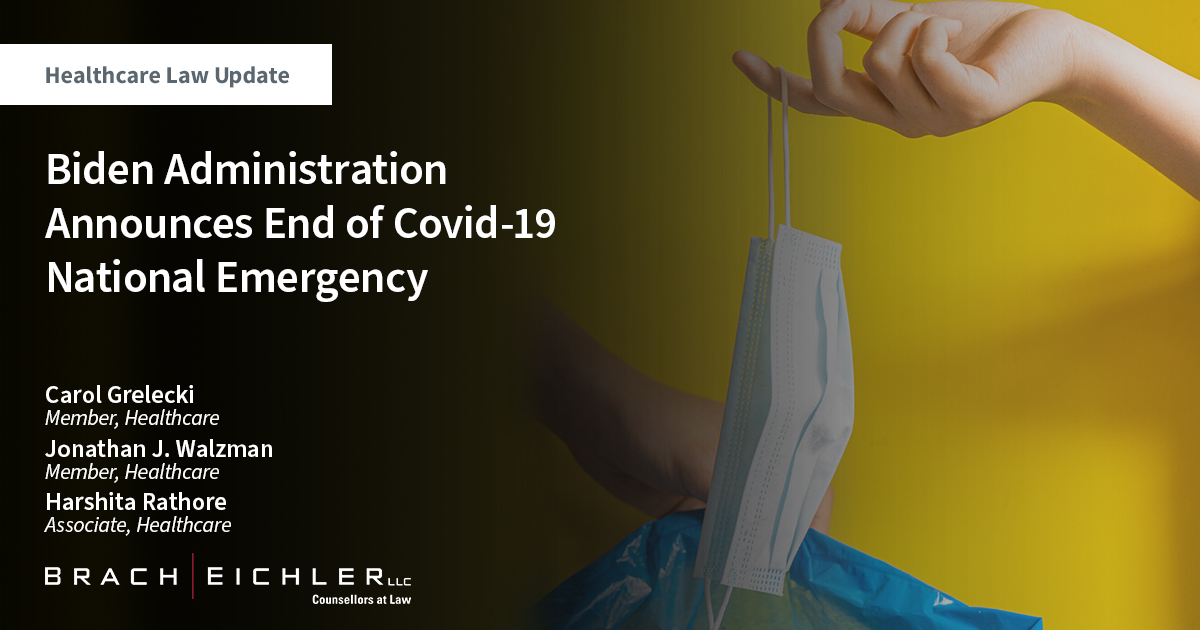 BACK TO INSIGHTS
Articles
4/30/2023
On April 10, 2023, President Joe Biden signed a resolution to end the national COVID-19 emergency, one month earlier than the previously scheduled end date of May 11, 2023. The national emergency was one of two COVID-19 emergencies that provided specific permissions and support during the pandemic. The resolution will not have any impact on the public health emergency which will continue to be in effect until May 11, 2023.
The expiration of the national emergency will terminate certain government mandates that were put in effect as a result of the COVID-19 pandemic, including mandating extended special enrollment periods in certain health insurance plans upon the occurrence of certain life events such as loss of alternate coverage, getting married or having children. Certain mandates related to COBRA insurance coverage will also expire, including rules allowing terminated employees extra time to pay their COBRA premiums or to decide whether to enroll in COBRA coverage. Certain other mandates will terminate with the end of the public health emergency in May, including COVID-19 testing and vaccine mandates for employers and requirements for health insurance plans to fully cover COVID-19 testing on both in-network and out-of-network bases.
The U.S. Department of Labor, U.S. Department of Health and Human Services, and U.S. Department of the Treasury have issued frequently asked questions (FAQs) and guidance to assist employers in preparing for the impact of the expiration of the COVID-19 national emergency and public health emergency. The Centers for Medicare & Medicaid Services has also provided an updated factsheet for Medicare and Medicaid providers regarding how the end of the emergencies will affect existing Covid-19 waivers and flexibilities that have been in existence since 2020.